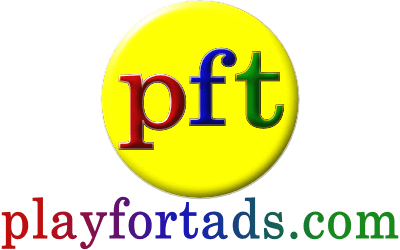 Join us to play FREE games
Earn Iotas and Tads, Gain Milestones
Create your Avatar, and so much more.
Due to the end of Flash games, Play for Tads will be offline intermittently.
6 Online playing
2752 FREE GAMES
TERMS OF USE OF THIS SITE
Privacy Policy
Updated May 25, 2018
Welcome, and thank you for your interest in using the Play for Tads website and being part of our community. These Terms of Use (the "Terms") constitute a binding agreement between PlayforTads.com ("The Play for Tads Team", "pft Team", "we" or "us") and you. You must agree to these Terms, which include our Privacy Policy, before continuing to use the Play for Tads website (the "Site", "PFT") or any software, applications, features, or functionality available on the Site. By using the Site, you agree to these Terms. Play for Tads reserves the right, in its sole discretion, at any time, and without limitation, to change these Terms or impose new terms or conditions. Such changes, updates, or additions shall take effect immediately upon Play for Tads posting the amended Terms at this website location. Your use of the Site after such notice shall be deemed to constitute your acceptance of the modified Terms. If you do not agree to these Terms, do not use the Site.
USER ACCOUNTS
Anyone under the age of 13 must have the consent of a Guardian Adult and must be supervised while using the PFT website. Such Guardian Adult will be solely responsible for the actions of the minor tween. Any violations of our Terms will cause the Guardian Adults' account to be suspended. Anyone over the age of 13 may create a user account to become a member. You must be at least thirteen (13) years of age to use the Site without a Guardian Adult. By agreeing to the Terms, you represent and warrant to us: (i) that you are at least thirteen (13) years of age OR that you have the consent of a Guardian Adult (ii) that you have not previously been suspended or removed from the Site and (iii) that your registration and your use of the Site is in compliance with any and all applicable laws and regulations.
CODE OF CONDUCT
Your use of the Site is subject to all applicable local, state, national laws and regulations and, in some cases, international treaties.
You may not share your account with anyone. You are solely responsible for all activities, acts and omissions that occur under your user name and/or password. You shall not use, allow or enable others to use the Site or the in-house messaging system in any manner that is likely to: be libelous, defamatory, indecent, vulgar or obscene, pornographic, sexually explicit or sexually suggestive, racially, culturally, or ethnically offensive, harmful, harassing, intimidating, threatening, hateful, objectionable, discriminatory or abusive.
If you are using the Site on behalf of an entity, organization, or company, you represent and warrant that you have the authority to bind such organization to these Terms and you agree to be bound by these Terms on behalf of such organization. All of the information that you supply to us in creating your user account must be accurate. You are responsible for maintaining the confidentiality of your account and password. We may reject any user name that violates these Terms, including any user name that uses another person's identity or that violates our community and content guidelines. We may use the email you provide to us in your user account profile to provide you with service messages and updates. By becoming a Site member you are consenting to the receipt of these communications.
You may not use the Site's in-house PM system to send or result in the transmission of junk mail, chain letters, duplicative or unsolicited messages, surveys, contests, pyramid scheme, or so-called "spamming" and "phishing", or encourage other users to copy a message to send to their PFT friends.
You may not create a false identity for the purpose of misleading others (including the creation of alternate accounts) or forge any TCP/IP packet.
You may not use the Site to harass or advocate harassment of another person, member or entity. Perform any activities that violate any state, local, provincial, federal, or international laws or regulations. Provide resources to or otherwise support any organization(s) designated by the Canadian government as a foreign terrorist organization under Section 219 of the Immigration and Nationality Act. Impersonate any person or entity or misrepresent in any way your affiliation with a person or entity. Transmit unsolicited mass mailings, or "spam". Attempt to collect or use personal information about users or third parties without their consent. Collect or store any information about other users or members, other than in the normal course of using the Site for its intended purpose of facilitating voluntary communication among users. Transmit any virus, worm, defect, Trojan horse, time bombs, date bombs, adware, spyware, or similar destructive or harmful item. Interfere with security-related features of the Site, including by (i) disabling or circumventing features that prevent or limit use or copying of any content, or (ii) reverse engineering or otherwise attempting to discover the source code of the Site or any part thereof except to the extent that such activity is expressly permitted by applicable law. Take any action that imposes or may impose (in our sole discretion) an unreasonable or disproportionately large load on our infrastructure.
You may not use the Site in any manner that could damage, disable, overburden, disrupt or impair the Site or our network or interfere with any other party's use and enjoyment of the Site. Modify, adapt, translate, or reverse engineer the Site. Use any robot, spider, site search/retrieval application, or other device to retrieve or index any portion of the Site. Play for Tads grants the operators of public search engines permission to use spiders to copy materials from the Site for the sole purpose of creating publicly available searchable indices of the content on the Site that link back to the Site for the full text of the content. You may not frame the Site or reformat it in any way. You may not create or access member's user accounts using any automated means or under false pretenses.
All of the content available through the Site is subject to the copyrights and trademarks of Play for Tads, our partners, or users. Except as described in the previous paragraph, you may not store, display, publish, transmit, distribute, modify, reproduce, create derivative works of or in any way exploit any of the Site content, in whole or in part.
PRIVACY POLICY
Our Privacy Policy is part of and incorporated into these Terms. The Site may contain advertisements, offers or other links to other websites and resources of third parties we do not control. That information, as well as advertisements, may or may not be or remain wholly accurate. You acknowledge and agree that Play for Tads is not responsible or liable for (i) the availability or accuracy of such sites or resources or (ii) the content, advertising, or products or services on or available from such sites or resources. The inclusion of any link on the Site does not imply that we endorse the linked site. You use the links at your own risk. Our Privacy Policy is applicable only when you are on our Site. Once you choose to link to another site, you should read and understand that site's privacy statement before disclosing any personal information.
Intellectual Property Rights Policy DMCA Notification
Play for Tads respects the rights of intellectual property holders. If you believe that any content on the Site violates these Terms or your intellectual property rights, you can report such violation to us in accordance with the Digital Copyright Act. Include a description of the copyrighted work or other intellectual property that you claim has been infringed. A description of where the material that you claim is infringing is located on the Site (including the exact URL). An address, a telephone number, and an e-mail address where we can contact you. A statement that you have a good faith belief that the use is not authorized by the copyright or other intellectual property rights owner, by its agent, or by law. A statement by you under penalty of perjury that the information in your notice is accurate and that you are the copyright or intellectual property owner or are authorized to act on the owner's behalf. Your electronic or physical signature, or that of the person authorized to act on behalf of the owner of the copyright or other right being infringed. We may request additional information before we remove allegedly infringing material. You may report a copyright violation by providing the above information to the Play for Tads designated agent listed below.
pft Custodian
playfortads.com
Email: webmaster AT playfortads.com
We will terminate the user account or any user who repeatedly submits content that violates our intellectual property policies. A repeat infringer is a user who has been notified of infringing activity more than twice and/or has had content removed from the Site more than twice.
OUR RIGHTS AND RESPONSIBITIES
We maintain the right to do any of the following any time, with or without prior notice. We reserve the right to restrict, suspend, or terminate your access to all or any part of our services. We can change, suspend, or discontinue all or any part of our services. We have the right to refuse, move, or remove any content, refuse to register any user name that may be deemed offensive.
Since operation and functionality of the Site depend on factors such as the type of hardware, software, or network you are using, there is a possibility that the Site may not work on your computer, be interrupted or have errors in its operation, or may interfere or even harm the operation of your computer or other devices; Play for Tads does not warrant the successful operation of the Site on your computer or other device, and we are not liable for any such problems that result from your use of the Site. Moreover, the Site may contain advice, opinions, instructions, statements, and other information from Play for Tads, its users, and other content and information providers. This content is intended to be used for informational and entertainment purposes only. Your use of the Site and content is at your own risk.
You understand that by using the Site, you may be exposed to content that you find offensive or objectionable.
We disclaim any responsibility for inaccuracies on the Site. We are not responsible for any loss, harm, error or omission that may result from the use of the Site or the services we provide or for any service failure or interruption, regardless of the cause.
Applicable Law
These Terms shall be construed in accordance with the laws of the Province of Ontario without regard to conflict of law principles, and the parties irrevocably consent to the personal and exclusive subject matter jurisdiction of the provincial and federal courts located in Ontario, Canada. Notwithstanding the above, you agree that Play for Tads shall still be allowed to apply for injunctive remedies (or an equivalent type of urgent legal relief) in any jurisdiction.
Location of Data. The Service is mostly hosted in the United States, although some elements of the Service are hosted in Europe, Asia and South America to improve the speed of serving users in those areas. If you are located outside the United States, you understand and consent to having any personal information you provide transferred to and processed in the United States. U.S. data protection and other relevant laws may not be the same as those in your jurisdiction. We believe we are in compliance with the European Union's General Data Protection Regulation ("GDPR"), but many aspects of GDPR are up for interpretation and it will take time to understand exactly how GDPR should best be implemented and explained in the context of video games. As a result, please read this Privacy Policy with care and contact us if you have any questions or concerns.
Disclaimer
THIS SITE AND THE MATERIALS, INFORMATION, SERVICES, AND PRODUCTS IN THIS SITE, INCLUDING, WITHOUT LIMITATION, TEXT, GRAPHICS, AND LINKS, ARE PROVIDED "AS IS" AND WITHOUT WARRANTIES OF ANY KIND, WHETHER EXPRESS OR IMPLIED. TO THE FULLEST EXTENT PERMISSIBLE PURSUANT TO APPLICABLE LAW, PLAY FOR TADS DISCLAIMS ALL WARRANTIES, EXPRESS OR IMPLIED, INCLUDING, BUT NOT LIMITED TO, IMPLIED WARRANTIES OF MERCHANTABILITY AND FITNESS FOR A PARTICULAR PURPOSE, TITLE, NON- INFRINGEMENT, FREEDOM FROM COMPUTER VIRUS, AND WARRANTIES ARISING FROM COURSE OF DEALING, COURSE OF PERFORMANCE OR USAGE OF TRADE. PLAY FOR TADS DOES NOT REPRESENT OR WARRANT THAT THE FUNCTIONS CONTAINED IN THE SITE WILL BE UNINTERRUPTED OR ERROR-FREE, THAT DEFECTS WILL BE CORRECTED, OR THAT THIS SITE OR THE SERVER THAT MAKES THE SITE AVAILABLE ARE FREE OF VIRUSES OR OTHER HARMFUL COMPONENTS. PLAY FOR TADS DOES NOT MAKE ANY WARRANTIES OR REPRESENTATIONS REGARDING THE USE OF THE MATERIALS IN THIS SITE IN TERMS OF THEIR COMPLETENESS, CORRECTNESS, ACCURACY, ADEQUACY, USEFULNESS, TIMELINESS, RELIABILITY OR OTHERWISE. WE ARE NOT RESPONSIBLE FOR THE ACTIONS OR INFORMATION OF THIRD PARTIES, AND YOU RELEASE US FROM ANY CLAIMS AND DAMAGES, KNOWN AND UNKNOWN, ARISING OUT OF OR IN ANY WAY CONNECTED WITH ANY CLAIM YOU HAVE AGAINST ANY SUCH THIRD PARTIES. SOME JURISDICTIONS DO NOT ALLOW THE EXCLUSION OF IMPLIED WARRANTIES, SO SOME OF THESE EXCLUSIONS MAY NOT APPLY TO YOU. IF YOU ARE A ONTARIO RESIDENT, YOU WAIVE ONTARIO CIVIL CODE, WHICH SAYS: A GENERAL RELEASE DOES NOT EXTEND TO CLAIMS WHICH THE CREDITOR DOES NOT KNOW OR SUSPECT TO EXIST IN HIS OR HER FAVOR AT THE TIME OF EXECUTING THE RELEASE, WHICH IF KNOWN BY HIM OR HER MUST HAVE MATERIALLY AFFECTED HIS OR HER SETTLEMENT WITH THE DEBTOR. IF YOU ARE A RESIDENT OF A STATE WITH PROTECTIONS SIMILAR TO ONTARIO CIVIL CODE, YOU HEREBY WAIVE SUCH PROVISIONS OR PROTECTIONS.
Indemnification
By utilizing the Site you agree to indemnify, defend and hold Play for Tads and its officers, directors, employees, agents, and affiliates harmless from and against any and all liability, losses, costs, and expenses (including attorneys' fees) incurred by Play for Tads through your use of the Site or your posting or transmission of content in violation of these Terms (including, but not limited to, negligent or wrongful conduct, infringement of any third party's intellectual property, confidentiality, privacy or publicity rights). You also agree to take sole responsibility for any royalties, fees or other monies owed to any person by reason of any content you post or transmit through the Site or the services we provide. Play for Tads reserve the right, at our own expense, to assume the exclusive defense and control of any matter otherwise subject to indemnification by you, and in such case, you agree to cooperate with our defense of such claim.
No Waiver
The failure of Play for Tads to exercise or enforce any right or provision of these Terms, including any failure to act with respect to a breach, will not constitute a waiver of such right or Play for Tads right to act with respect to subsequent or similar breaches.
We reserve the right to terminate your access to the Site if you fail to abide by these Terms. We also reserve the right to inform law enforcement authorities of any potential illegal activities and to provide them with all information about the account through which such activities occurred, as further described in our Privacy Policy. The Terms, together with the Privacy Policy and any other agreements expressly incorporated by reference herein, constitute the entire and exclusive understanding and agreement between you and Play for Tads regarding your use of and access to the Site, and except as expressly permitted above may only be amended by a written agreement signed by authorized representatives of the parties. You may not assign or transfer the Terms or your rights hereunder, in whole or in part, by contract, operation of law or otherwise, without our prior written consent. We may assign, transfer or convey all or part of the Terms at any time without notice. In the event that any part of the Terms is held to be invalid or unenforceable, the unenforceable part shall be given effect to the greatest extent possible and the remaining parts will remain in full force and effect. Upon termination of the Terms, any provision which, by its nature or express terms should survive, will survive such termination or expiration.
Play for Tads COMMUNITY GUIDELINES
The Play for Tads Community welcomes all individuals and values the contributions of all its members. Play for Tads is a place for game playing, sharing personal expression, storytelling, and honest opinions; a safe, family friendly environment to share your experiences and get support from others who understand what you are celebrating and what you are going through. We encourage the sharing of information, ideas, and personal stories via comments throughout Play for Tads and active participation in our Community.
Please be aware that Play for Tads does not confirm or verify the information posted by members of its Community and therefore cannot validate its accuracy. We do not recommend following medical advice given by another member without consulting a medical professional. Additionally, we rely on our members to report abuse and flag inappropriate material. We ask that you respect the Play for Tads Community and refrain from engaging in inappropriate behavior on Play for Tads. Accordingly, please: Do not harass, abuse, or threaten another member. If you disagree with someone, respond to the subject and to the person. Do not use hate speech. Hate speech is unacceptable, and Play for Tads reserves the right to take appropriate action against any individual using Play for Tads to post, transmit, promote, distribute, or facilitate the distribution of content intended to victimize, harass, degrade, or intimidate an individual or group on the basis of age, disability, ethnicity, gender, race, religion, or sexual orientation. Do not impersonate any person, business, or other entity. Doing so in an attempt to deceive, harass, or otherwise mislead another Play for Tads Community participant is forbidden. Do not post or reference material that is pornographic, sexually explicit, drug/narcotic related or obscene. Do not engage in any form of solicitation or spamming. Do not engage in any activity that is unlawful. Do not post or reference material that is libelous, profane, defamatory, disparaging, hateful, harassing, threatening, or obscene. Do not post or reference material that is off topic. Do not post material that violates another's copyright or intellectual property.
If you become aware of any inappropriate behavior on Play for Tads, please report them immediately. Play for Tads reserves the right, without limitation to that which is expressly stated in these Community Guidelines and in our Terms, to moderate or remove any post at any time and to ban any member at any time, for any reason. If a post speaks to illegal activities, Play for Tads will contact appropriate authorities as required by law. Play for Tads has no obligation to delete content members find personally objectionable or offensive and retains the right to change or modify these rules at any time and without notice. Violation of these guidelines and/or the Play for Tads Terms of Use may result in your content being removed, membership being blocked and/or being banned from the site altogether.
By participating in the Play for Tads community you are agreeing to abide by the above guidelines and maintain the fun, positive atmosphere for which Play for Tads is known. Please note that in addition to these Community Guidelines, we ask that you read and abide by our Terms of Use as well as read and understand our Privacy Policy, which applies to Play for Tads as a whole, including the PFT community.
You may have additional rights than those outlined in this document depending on where you live, for example if you are covered by the EU's GDPR. If you have questions, suggestions or concerns about this Privacy Policy, or would like to exercise a right extended by the GDPR, please contact Play for Tads at:
Email: webmaster@playfortads.com
Copyright ©
Play for Tads
2013-2023. All Rights Reserved.
<! AV Arcade Popup !>

Members Menu